CELEBRATION OF THE BREAST
Kym and his wife Tonya have produced an amazing art-piece featuring 108 women's breasts. The large scale photo montage (which can be purchased here) features women aged from 18 to 88 years (average age 44.6 years) from all corners of the globe.
The 1.2m x 1.8m montage was premiered in Western Australia in late January 2019 and will be on display at different galleries and exhibitions throughout 2019.
What was noticeable at the two WA launches was the fact that the women were the first to examine the completed image.  The men, they waited until all the women had spent some time examining it before they had a good look.
At the Perth launch, Betty Cottrell from the Cancer Council was on hand to accept a copy of the print and the digital file.  They will use the image in their breast cancer awareness program.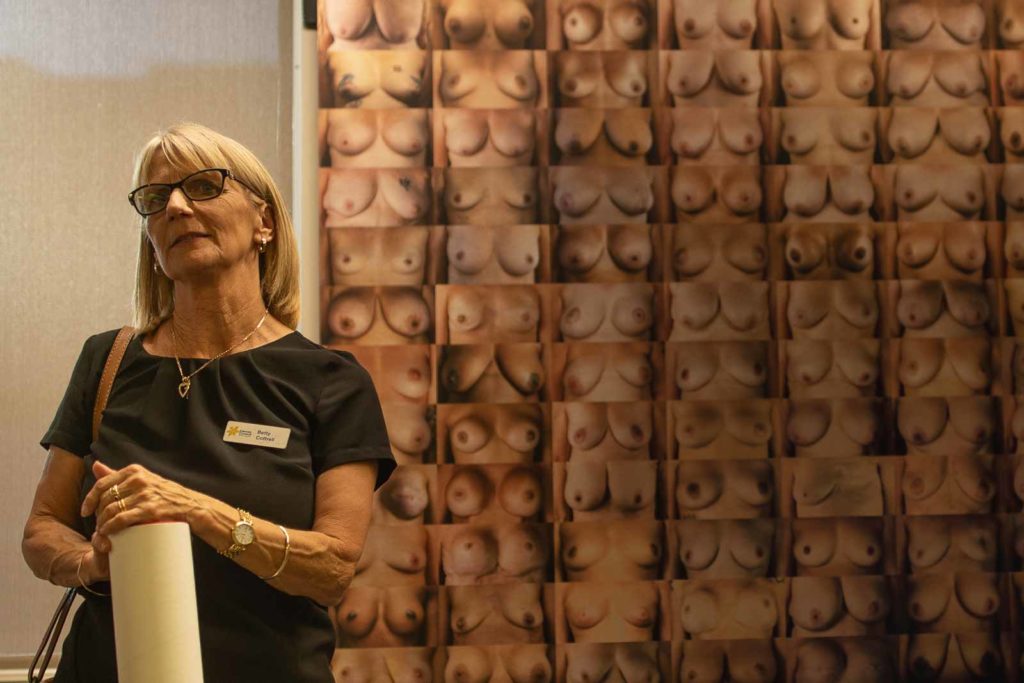 The images were shot in two studios, one in Lancelin and the other in Perth, Western Australia. Many of the participants were breast cancer survivors who were more than happy to show their "battle scars" for this unique project.
There is a diverse range of nationalities represented here; Australians, Kenyans, South Americans, Spanish, African Americans, Asians, Indians and Middle Eastern, there's even a transgender. Many of the participants had undergone surgery as a result of breast cancer and were more than happy to be involved in this unique project.
Having completed the 108-women montage the Illmans now intend to shoot another 108 women and produce an even bigger art piece.
No faces were photographed and no names were associated with any photo plus each participant received a high quality glossy print of the finished montage as a thank you for their involvement.
Perth's Sunday Times newspaper got involved early on running the story below. This resulted in 34 women putting their hands up to be involved in the shoot.
If you're interested in being shot for the expanded version (you will receive an A4 version of that print for free) please email tonya.allan@messagesonhold.com.au.
Found a picture that you love? All of Kym's photographs are available for high-quality digital download worldwide, or as fine art prints for Australia delivery only. To make a purchase, simply visit prostarpics.com and use the search function to find the images you're looking for.
You can also order Kym's photography books at the Kym Illman Photography Store.
Purchase Prints