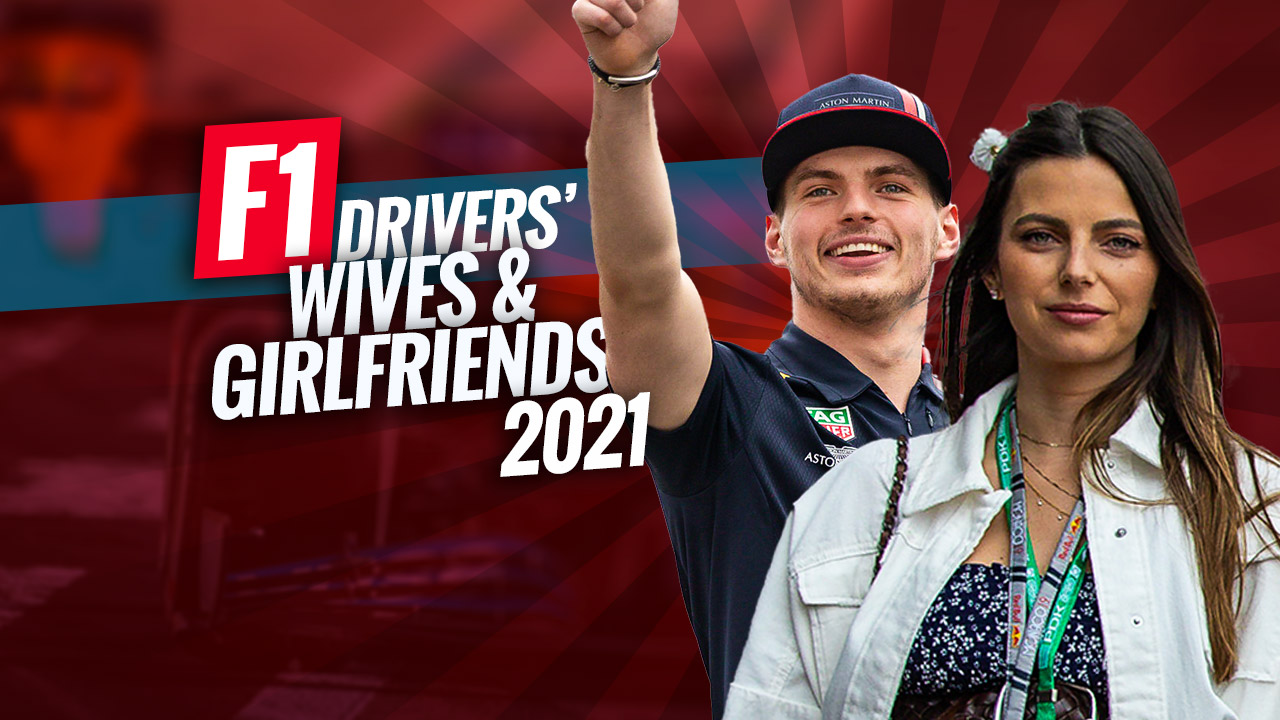 There's huge interest in the partners of the F1 drivers! In the 2021 group, you'll find an architectural student, a law graduate, several models, four mums, and a whole lot more. Yes, this is a diverse bunch of beautiful and driven women.
Let's start off with the current leader in the world championship, Max Verstappen, and his girlfriend Kelly Piquet.

Max Verstappen and Kelly Piquet
Kelly is 32 years of age, she hails from Brazil, and is one of the most popular women in F1. She started going out with Max in late 2020. Prior to her relationship with Max, she was Daniil Kvyat's partner. She has a baby with Daniil, Penelope, who I photographed in Brazil in the paddock in 2019.
Kelly is enormously popular on social media. Kelly has 416,000 Instagram followers as of August 2021 – and if I put up a photo of Max and Kelly up together – I can get up to 25,000 likes easily!
Her father is three-time world champ, Nelson Piquet, and her mother is Sylvia Tamsma, a Dutch model. In her younger years, Kelly studied all over the world. She's worked at Vogue Latino America and Bergdorf Goodman, she was a columnist at the magazine Marie Claire, and handled the social media for Formula E for a while.
Fernando Alonso's girlfriend, Linda Morselli, is a 32-year-old Italian model, a television personality, and an influencer. She lives in Milan, she's a very stylish dresser and has been to one race this year in France. In 2006, she was a finalist in Miss Italia and I must say, I always enjoy photographing Linda!

Fernando Alonso and Linda Morselli
"What about Charles Leclerc?!" I hear you cry. Well, he goes out with Charlotte Sine. Charlotte, who's 21, is a Monégasque just like Charles. She started going out with Charles in 2019. In fact, her family lived next door to Charles' family in Monaco for many years. She's quite a shy character, but she's no slouch when it comes to study. She'll graduate as an architect in one year, and is currently doing an internship in interior design. She's creative, she studied music for fifteen years, plays the piano just like Charles, and has even sung opera. She's a talented artist, and last year she took up designing shoes.

Charles Leclerc and Charlotte Sine
Her first language is French, but apart from that, she speaks English, Italian and a little bit of Russian. She was at plenty of races last year, and this year, I've spotted her at a couple, and even photographed her with Charles' mum Pascale at the French Grand Prix.
Lewis Hamilton doesn't have a girlfriend as far as anyone can tell. Yes, he did go out with Nicole Scherzinger in about 2007 to 2015-ish… But in my time, I've never seen him with a woman at the track.
Sergio Pérez doesn't have a girlfriend, he has a wife – Carola Martinez! So where did Carola and Sergio meet? At a disco! The pair live in Guadalajara, Mexico and in December 2017, they had their first child, Sergio Pérez Junior. They were married shortly after that in June 2018, then they had their second child, Carlotta, in September of 2019. This year, I photographed her at a couple of races including Portugal, but unfortunately she wasn't there when Checo won in Baku.

Sergio Pérez and Carola Martinez
Williams driver Nicholas Latifi's girlfriend is 26-year-old Sandra Dziwiszek. She was born in Poland, and now lives in London. She's a lawyer by profession and completed her undergraduate law degree, Master of Laws, and LPC in London. She used to be a professional pole vaulter but now is focusing on modelling, and loves the camera as much as the camera loves her.

Nicholas Latifi and Sandra Dziwiszek
Daniel Ricciardo is single. He was in a long-term relationship in his earlier years with Perth girl, Jemma Boskovich. But if you do some research, you'll find that the WAG sites on Instagram state that he might have been in a relationship with Australian model Jessica Gomes, and might have been in a relationship with Heidi Berger, the daughter of Gerhard Berger, who was actually at a recent race. But there's nothing to confirm that though, so the smart money says, Daniel Ricciardo is single.
Carlos Sainz's girlfriend is Isabel Hernaez. Like Carlos, she's from Madrid, and she holds a Bachelor of Bilingual Journalism. She works in fashion as a press officer at Scalpers and Victoria Collection, and models occasionally. Their relationship is very low-key – I've never photographed them together!

Carlos Sainz and Isabel Hernaez
Alpha Tauri driver Pierre Gasly was dating the delightful Italian, Caterina Masetti Zannini but that relationship ended in early 2020. He has recently been spotted in the company of 22-year-old, Ukraine-born Katerina Berezhna who lives in Dubai.

Pierre Gasly and Katerina Berezhna
Kimi Räikkönen is married to 34-year-old Minttu Räikkönen, a fellow Fin. The pair met when she was working as an airline cabin crew attendant. In January 2015, she gave birth to Robin, she married Kimi in August of 2016, and in May of 2017, Minttu had their second child, Riana.

Kimi Räikkönen and Minttu Räikkönen
Alpine driver Esteban Ocon goes out with 24-year-old, Italian-born Elena Berri. Elena was at the France race recently and that was her first race in probably a good couple of years. She started university in Paris, but is currently studying international business in Geneva. She's also into fashion and some months ago she started some collaborations with some Italian brands. The pair met in Valencia, Spain, in August 2017 – and at that time she had no idea Esteban was an F1 driver.

Esteban Ocon and Elena Berri
Lance Stroll from Aston Martin is going out with Italian model, 26-year-old Sara Pagliaroli. She's partnered with clothing brand Replay, which is a sponsor of Aston Martin. You might have seen their logo on the sleeve of Lance's race suit! She also works with Yamamay, a clothing, lingerie and swimwear company, and you'll see her prominently on their social media and on their website. But she's also a businesswoman in her own right – she runs a jewellery company called BlueLemonJewels.com.

Lance Stroll and Sara Pagliaroli
Lando Norris? Can't tell you anything about Lando. I've never seen him at the track with a girlfriend, and by all accounts, he does not have one although there was great chatter online in August when vision of him hugging a young woman in Croatia spread across the net.
Sebastian Vettel is married, has been married since 2019, to Hanna, and I have never seen Hanna at the track. I don't think anyone's photographed her at the track.
What about Yuki Tsunoda? Nothing online suggests he has a girlfriend, so I think he's just pretty much focused on his racing at the moment.
I took a photograph of Mick Schumacher with Norwegian Justine Huysman at testing in Bahrain. I thought she was someone from the team, but when I posted the picture on Instagram, commenters suggested very quickly that they were in a relationship. Justine is in her 20s and has been to a couple of races this year with Mick including Portugal where I photographed her below. She's the daughter of ex-race-car driver Harold Huysman from Norway and their family has been friends with the Schumacher family for many years.

Mick Schumacher and Justine Huysman
Nikita Mazepin – does he have a girlfriend? Not as far as I can tell.
What about the second of the two Mercedes drivers, Valtteri Bottas? He split with his wife Emelia going back in 2019, and now goes out with Adelaide cyclist, Tiffany Cromwell. Tiffany  represented Australia in the Summer Olympics in Japan in 2021. She's 33, a professional cyclist with the Canyon-TRAM team, and is highly regarded in the cycling arena. How did they meet? Through mutual friends in Monaco and their common interest is cycling. I asked Tiffany what kind of cyclist Valtteri was. She openly admitted "he's strong and he has improved, but endurance is not his strength."

Valtteri Bottas and Tiffany Cromwell
Italian Antonio Giovinazzi goes out with fellow Italian, Antonella Maraglino. They keep their relationship very quiet. She's only been at the track once that I can remember and I've never photographed her.
And the last of the 2021 F1 drivers is George Russell, his girlfriend is Carmen Montero Mundt. She's in business management and finance, according to her Instagram page.

George Russell and Carmen Montero Mundt
The pair first appeared in the paddock together during the Tuscan Grand Prix of 2020 and this year, she's been at a number of races with George. Here she is enjoying the company of Nicholas Latifi's girlfriend Sandra Dziwiszek up on the Williams hospitality terrace.

That's your 20 drivers for this year, but I'm going to give you two extras. First up, Red Bull's reserve driver Alex Albon.  He goes out with Lily He. Lily is a professional golfer, who was born in Chengdu, China, grew up in Canada, and now lives in Los Angeles. How did the pair meet? They discovered each other on social media and met a couple of months later. She admits that she knew nothing about F1 until she started talking to Alex. And she has over 399,000 followers on Instagram as at August 2021.

Alex Albon and Lily He
And the final driver is Nico Hülkenberg, the reserve driver for Aston Martin. He is now married to long-time girlfriend Egle Ruskyte, also known as Sunny.

Nico Hülkenberg and Egle Ruskyte
Sunny's one of my favourites – she is just beautiful,  funny, stylish and is a fashion designer, marketing herself under the pseudonym "The Crochet Girl". How did the pair meet? It was through her fashion work. She'd sold some dresses to one of Nico's friends, and the friend gave Nico Sunny's business card. The following day, she received a message from him. She admits she didn't know who he was at the time, but the pair have been together since then. They announced their marriage mid-2021 and two weeks later,  the pair revealed they would be having their first child.
Thanks for combing through the 2021 edition of F1 Drivers' Wives and Girlfriends! You'll find all my digital images at ProStarPics.com, you can order one of my stunning F1 photo books by heading to Kymillman.com, where you can also get a range of merchandise. You'll find my best pictures live from the track and all during the week on Instagram, @KymIllman and as always, I urge you to "stay passionate"!