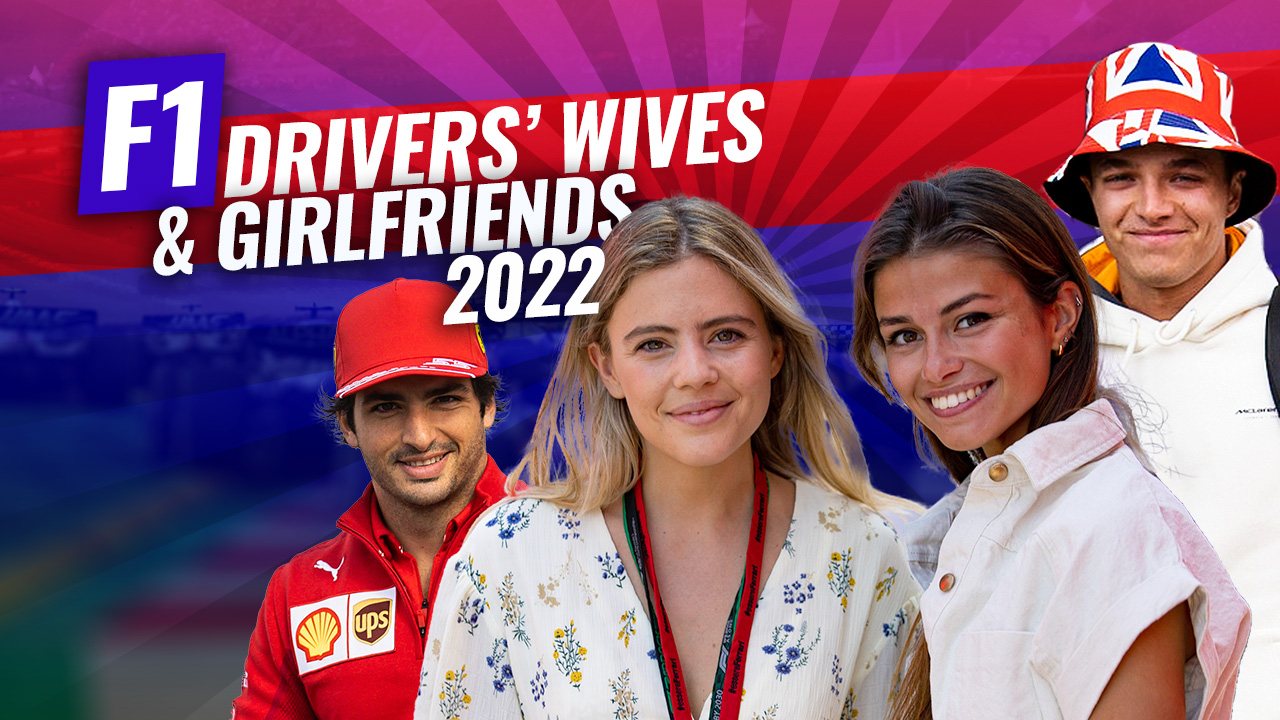 Meet the partners of 16 of the current F1 drivers; a diverse bunch of beautiful and driven women comprising an architectural graduate, 2 professional sportswomen, a law graduate, a TV presenter, several models and a whole lot more. Like every year, there are new inclusions in this group and some departures, so if you're ready here are the F1 drivers' wives and girlfriends in 2022.
It never ceases to amaze me at just how much interest there is in the partners of the F1 drivers. This year they are all women, of course at some point we may well have a male partner but as it stands now that doesn't appear to be the case so let me introduce you to 16 women who call an F1 driver a husband or boyfriend.
First up, meet Carmen Montero Mundt, George Russell's girlfriend.

 George Russell and Carmen Montero Mundt
I first spotted the pair in the paddock during the Tuscan Grand Prix of 2020 and since then she's been a regular and very popular attendee at many races with George. She lives in London, works in finance, has a stylist, is the subject of a few fan Insta pages and has 88K Insta followers herself.

I stood next to Carmen at the 2022 Spanish GP enabling me to get these lovely pics of the pair and to also cop a fair bit of sparkling wine that George sprayed at his girlfriend from the podium.

Max Verstappen and Kelly Piquet
Pictured above is Kelly Piquet, Max Verstappen's girlfriend. Kelly is 33 years of age, she hails from Brazil and is one of the most popular women in F1. She started going out with Max in late 2020.

Prior to her relationship with Max, she was Daniil Kvyat's partner. She has a daughter with Daniil, Penelope who I've only seen at one race, Brazil 2019 when Kelly posed for this pic.
Kelly is enormously popular on social media having more than doubled her following over the past year to just shy of 1m followers. In fact, pics of Kelly do better on social media than pics of the F1 world champion. Go figure huh.

The second mum in this group of 16 is Carola Martinez, Sergio Perez's wife.

Sergio Perez and Carola Martinez
So where did Carola and Sergio meet? At a disco! The pair live in Guadalajara, Mexico and in December 2017, they had their first child, Sergio Pérez Junior. They were married shortly after that in June 2018 and had their second child, Carlotta, in September of 2019  with their third, Emilio born in May 2022. While she doesn't get to too many races, I've seen her at both the Canadian and French GPs this year.

I should say that I've chatted with and provided images to most of the women you'll meet in this video. All but one have accompanied their partner to a race this year and in the paddock.
"What about Charles Leclerc?!" I hear you cry. Well, he goes out with Charlotte Sine.

Charles Leclerc and Charlotte Sine 
Charlotte, who's 22, is a Monégasque just like Charles. She started going out with Charles in 2019. In fact, her family lived next door to Charles' family in Monaco for many years. She's quite a shy character but she's no slouch when it comes to study. She recently graduated as an architect. She's creative too having studied music for fifteen years, plays the piano just like Charles and has even sung opera. She's a talented artist  and last year up designing shoes.
Charlotte is also good friends with the girlfriend of Carlos Sainz, Isa Hernaez.

Carlos Sainz and Isa Hernaez
Like Carlos, Isa is from Madrid, where she holds a Bachelor of Bilingual Journalism. She works in fashion as a press officer at Scalpers and Victoria Collection, and models occasionally.

For a good number of years, Daniel Ricciardo had been marked down as single. There had been rumours for some time that he was good friends with actor/model Heidi Berger. But when Heidi popped up in Saudi as a guest of McLaren in 2022 there was plenty of chatter. But on the Sunday, when she walked into the paddock with Dan's trainer wheeling her and Daniel's luggage, it was pretty much confirmed that the pair were an item.

Daniel Ricciardo and Heidi Berger
A couple of months later Daniel dispelled any doubt, by posting a pic of Heidi with him, putting to rest any doubt that the daughter of F1 great Gerhard Berger was his beau.

A few days later she was with the Australian driver in Miami (above) and clearly enjoying herself.
Dan's team mate Lando Norris went public in December 2021 that he had "teamed up" with Portuguese model Luisa Barossa Oliviera. Luisa, who's in her early twenties, is a character.

Lando Norris and Luisa Barossa Oliviera
I first met her in Abu Dhabi last year and since then she's been a joy to shoot at a number of races. It's fair to say that you love images of Lando and Luisa on social media, they are a perfect pair and like a lot of the women here, Luisa's Instagram following has shot up.
Next up is Fernando Alonso who introduced us to his new girlfriend Andrea Schlager going back to the Miami GP.

Fernando Alonso and Andrea Schlager
I've known Andrea for a while given she works in F1 as a TV presenter for Austrian broadcaster Servus. She actually started out in F1 working for Bernie Ecclestone. I spoke with Andrea about the relationship a few races ago and she admitted that initially they kept things very quiet but over time, some of the WAGS sites picked up on the relationship. In Miami, the pair arrived together holding hands and since then they look super comfortable with each other in the paddock.
I think I've known Esteban Ocon's girlfriend the longest out of the 16 women here.

Esteban Ocon and Elena Berri
The 25-year-old, Italian-born beauty started university in Paris but ended up studying international business in Geneva. She's into fashion and has collaborations with some Italian brands. The pair met in Valencia, Spain, in August 2017 – and at that time she had no idea Esteban was an F1 driver. She's been at a number of races this year, clearly enjoys the sport now and is the subject of a handful of fan pages on Instagram.
Sebastian Vettel is married and has been since 2019, to Hanna.

Sebastian and Hanna Vettel
I have never seen Hanna at the track. I don't think anyone's photographed her at the track for that matter but I hold great hope that Hanna will join Seb in Abu Dhabi for his final race this year.
Who does Alex Albon go out with? Lily He, a professional golfer, who was born in Chengdu, China and grew up in Canada.

Alex Albon and Lily He
She supports Alex at numerous races each year and he supports her on the course when possible. They're a super popular pairing on my Instagram page and with good reason, she's a great girl. How did the pair meet? They discovered each other on social media and met a couple of months later.

She admits that she knew nothing about F1 until she started talking to Alex.
But why is the general public so fixated with the F1 drivers partners? And have no doubt they are making up 70% of my top 10 Insta posts.  Clearly there's a huge appetite for this sort of content and that surprises me. My audience is 70% male but go back 4 years and it was 85%. More women are following F1 and they want to know whose captured the hearts of these elite sportsmen.
Williams driver Nicholas Latifi's girlfriend is 26-year-old Sandra Dziwiszek.

Nicholas Latifi and Sandra Dziwiszek
 She was born in Poland and now lives in London. She's a lawyer by profession and used to be a professional pole vaulter but now is focusing on modelling. She loves the camera as much as the camera loves her. I first shot her at the opening race of 2021 and it's fair to say, that when you add Sandra to a pic of Nicholas, you get way more than double the engagement.
What about Valtteri Bottas? He split with his wife Emelia going back in 2019 and now goes out with Adelaide cyclist, Tiffany Cromwell.

Valtteri Bottas and Tiffany Cromwell
Tiffany represented Australia in the Summer Olympics in Japan in 2021. She's 33, a professional cyclist with the Canyon-TRAM team and how did they meet? Through mutual friends in Monaco and their common interest is cycling. I asked Tiffany what kind of cyclist Valtteri was and she openly admitted "He's strong and he has improved, but endurance is not his strength."
Next up, Kevin Magnussen who's married to the lovely Louise.

Kevin Magnussen and Louise Gjorup
I've really only got to know Louise this year. I took some nice pics of her with Kevin after the opening race in Bahrain. We chatted briefly then and she asked for a couple of them to use on her social media. We spoke again in Spain and I asked if she'd pose for some shots as most of the partners do. She preferred I used the walking pics I had of her as she thought she didn't look good posed. Anyway, the next time we caught up was in France where she was most happy to smile for my lens (above) and liked the pics. So did I.
Mick Schumacher's girlfriend is Norwegian Justine Huysman.

Mick Schumacher and Justine Huysman
I posted a pic of the pair at testing in Bahrain in 2021. I thought she was someone from the team, but the Insta audience was quick to point out that it was Mick's girlfriend. Justine is in her 20s and attends a number of races a year but she typically arrives well after Mick and due to Haas' position at the far end of the paddock, we rarely see her. She's the daughter of ex-racecar driver Harold Huysman from Norway and their family has been friends with the Schumacher family for years.
And lastly reserve driver Nico Hulkenberg, who filled in for Sebastian Vettel during the first 2 rounds of the 2022 season, is married to the beautiful Egle Ruskyte aka Sunny

Nico Hulkenberg and Egle Ruskyte
Sunny runs a successful fashion business and the pair celebrated the arrival of their first child, Noemi in Sept last year.
That's 16 drivers with their 16 partners. That leaves us with 5 drivers. Lewis Hamilton, Zhou Guanyu and Yuki Tsunoda who I've not sighted with a partner at the track in my years.  Pierre Gasly and Lance Stroll are the final two and they parted ways with their girlfriends earlier this year.