Podiums: 67
Highest race finish: 1 (x10)
Teams raced for: Alfa Romeo, Mercedes, WIlliams
About
Valtteri
With Kimi Raikkonen retiring from F1, Valtteri Bottas is now the sole Finnish driver on the 2022 grid. Prior to F1, Valtteri raced in the Formula 3 Euroseries in 2009; he finished 3rd.
In 2010, he was appointed Williams test driver for 3 years while he competed in a variety of championships. In 2013 he scored a drive at Williams. He stayed for 5 years notching up a 4th (2014) and 5th (2015) before gaining the plum seat at Mercedes in 2017.
Partnering Lewis Hamilton, he won 10 races with the team over the 5 years he drove for them and finished 2nd twice (in 2019 and 2020).
Valtteri is a quiet achiever, loves a sauna and a coffee, goes out with Australian Olympic cyclist Tiffany Cromwell and has a smashing AMG GT Black series sports car which he rolled up in at the 2021 Italian GP.
In 2022 he has plenty of challenges in front of him as he steps into an Alfa Romeo alongside the only 2022 rookie Zhou Guanyu but the genial Finn will take it all in his stride and will no doubt enjoy being the no. 1 driver in the team.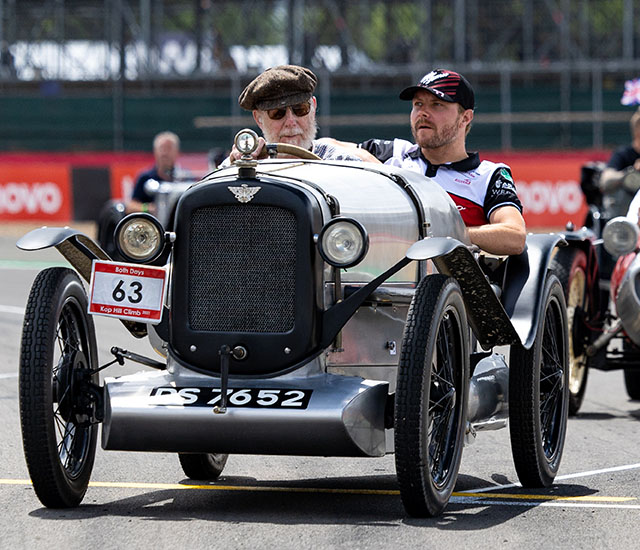 Facts
& Stats
Team: Alfa Romeo
First Race: 2013, Australian GP
Podiums: 67
Number: 77
Trainer: Antti Vierula
Manager: Didier Coton
Sponsors: Stilo, Insijets
Helmet: Stilo
Personal
Nationality: Finnish
Date of Birth: 28.08.1989
Place of Birth: Finland
Weight: 69kg
Height: 173cm
R/L hand: Right-handed
Mother: Marianne Valimaa
Father: Rauno Bottas
Languages: Finnish, English
Photo
Gallery
Explore Kym's best shots of Valtteri Bottas over the years!
Photo
Book
Order your stunning photo book featuring Kym's best shots of Valtteri Bottas! Enjoy 24 stunning, full-colour images bound in high-quality hardcover format.